Shotokan Karate History
SHOTO is the Shotokan Traditional Karate Organisation founded by Hanshi Mick Randall MBE 10th Dan in 1996. It is an association of about ten traditional karate clubs in North London offering traditional Shotokan karate classes, and is registered with the English Karate Federation (EKF).
Hanshi Mick Randall MBE 10th Dan started training in 1964 and was one of the original founders of the Karate Union of Great Britain (KUGB) in 1966, of Shotokan Karate International (SKI) in 1971, the English Shotokan Karate Association (ESKA) in 1978, and the Shotokan Karate Association (SKA) in 1984, before founding Shotokan Traditional Karate Organisation (SHOTO) in 1996.
Lineage of Shotokan Traditional Karate Organisation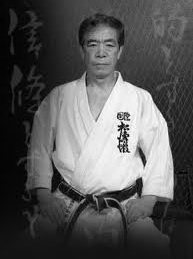 Hanshi Hirokazu Kanazawa 10th Dan, President and Chief Instructor of Shotokan Karate-Do International Federation (SKIF), was arguably one of, if not, the greatest Shotokan karate-ka of the modern age. He was taught by the founder of Shotokan, Hanshi Gichin Funakoshi, and by Hanshi Masatoshi Nakayama, Chief Instructor of the JKA.
Hanshi Kanazawa came to Great Britain in 1965 and taught his first lesson in April of that year, Hanshi Mick Randall MBE 10th Dan was a senior student in that class. He continued to train under Hanshi Kanazawa for many years and has spent a lifetime passing on his instructors' teachings to his students.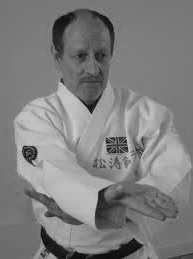 Hanshi Mick Randall MBE 10th Dan was born in 1944 and he started his Karate journey in January 1964 under the tutelage of Vernon Bell, the first Shotokan Instructor in the UK, and shortly after, Hanshi Kanazawa, when he came to Britain in 1965.
An original disciple of Hanshi Kanazawa, Hanshi Randall was one of the "Seven Samurai", training almost daily with him, and was also one of the very few to have been taught by the Japanese instructors Tetsuji Murakami and Hiroo Mochizuki. A staunch traditionalist, he became one of the first in Britain to obtain a black belt under the Japan Karate Association in January 1967.
Hanshi Mick Randall MBE 10th Dan founded SHOTO in 1996 as Principal Karate Instructor, and trained many senior black belts at this association. Every instructor at SHOTO has had the privilege of being taught by Hanshi Mick Randall MBE 10th Dan.
In November 2003, Hanshi Randall was awarded his MBE from Her Majesty Queen Elizabeth II for his Services To Karate.
Instructors / Senseis
View our sensei / senior instructor profiles here.
Genealogy
SHOTO's history and genealogy is available to view here.