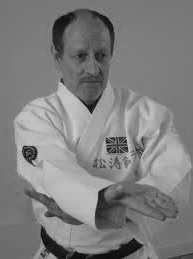 Hanshi Michael Randall MBE was born in 1944 and began his karate training in 1963 under Britain's first karate black belt Vernon Bell, who was head of the first karate association in Britain (British Karate Federation). Training was in a room above the Horseshoe pub in Clerkenwell.
In 1964, he featured in the first color film of karate in Britain, which was shown in cinemas across the country and later took part in the first demonstrations given by the JKA in Britain.
In the mid-1960s, Michael helped found the KUGB, which helped greatly in getting top Japanese instructors to come to Britain to spread karate. He trained with Senseis Murakami and Mochizuki in his early years, and with Senseis Nagai, Takahashi, Kase, Enoeda, Tanaka, Yahara, Shirai, Asano and of course, Hanshi Hirokazu Kanazawa 10th Dan, with whom he became very close. Indeed, he was one of Sensei Kanazawa's "Seven Samurai", training almost daily with him.
In 1970 he was chosen to be part of the British team to take on the Japanese all styles team.
Michael and many other UK instructors stayed with Kanazawa when he broke from the JKA to form the SKI. Kanazawa and other senior Japanese instructors regularly appeared at the Winchmore Hill dojo, and conducted frequent gradings.
Michael's grading history is as follows: 1st Dan in 1967, 2nd Dan 1970, 3rd Dan 1973, and 4th Dan in 1978. He once said that he "never even contemplated getting a black belt when I started karate and when I got it, it was nice but the happiest grading experience was getting third dan because in Kanazawa's eyes that was when you became a junior instructor. So that was a truly significant, satisfying and memorable day for me".
In the late 1970s it was time for Michael and others to form their own organisation, the English Shotokan Karate Organisation (ESKA). In 1996 he set up and was Chief Instructor of the Shotokan Traditional Karate Organisation (SHOTO).
He was dedicated to the three Ks of karate – kumite, kata, and kihon and has never given way to the trends of the day. His superb technical ability and attention to detail can be gleaned from the set of four instructional videos he produced or the video recordings from the Winchmore Hill training sessions in the 1980s. He was a truly inspirational instructor.
As is befitting such a pioneer of karate in Great Britain and a stalwart practitioner, he was awarded an MBE in 2003 for his Services To Karate by Her Majesty Queen Elizabeth II. He was presented with his 9th Dan in 2011, at the time making him one of the highest non-Japanese instructors in Europe.
In response to an interview question: "What has karate given you over all these years?" he replied, "A simple answer is everything. You will only get out of karate what you put into it and that is the most important lesson. There are no secrets in karate, you have to live it and experience it to discover all it has to offer. After all these years, health for a start, I was a very sickly child, a chronic asthmatic. It has given me my physical strength and also an inner strength of character through my years of training. It has given me my friends and the reason to travel. It has given me all I have and made me what I am. I am not materialistic and money doesn't bother me. However, I consider myself to be rich, not wealthy, I feel rich inside. I have a wealth of friends and experiences given to me by karate".
A perfect summary for one of Kanazawa's closest friends and one of his finest students.
Read the tributes to Hanshi Mick Randall MBE 10th Dan from the Senior SHOTO Instructors.