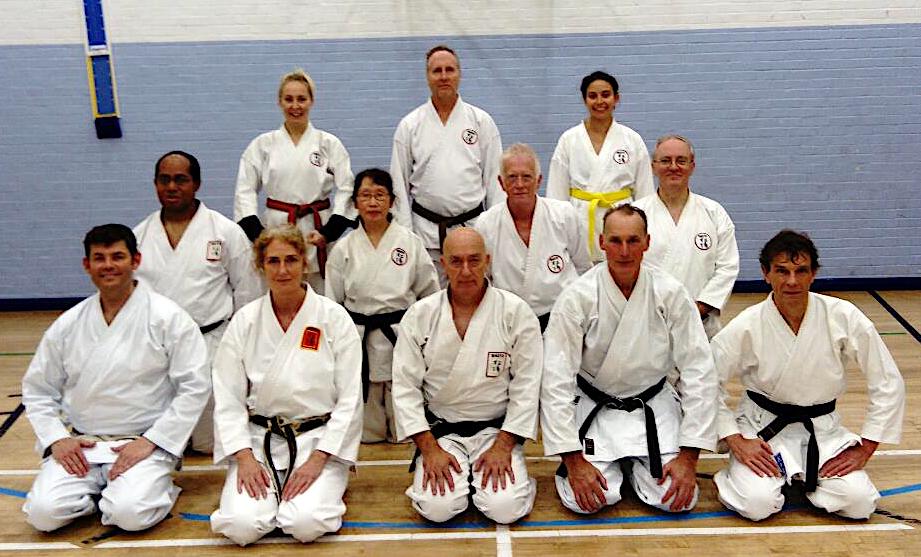 Thursday the 30th September 2021 will be remembered for a special training session at SHOTO's North London Dojo.
This was 7th Dan Sensei Jil Rickards last class as Senior Instructor.
Despite the mayhem nationwide as a result of fuel supply difficulties the class was attended by:
North London regular students:
Eche Ginikanwa 4th Dan
Konomi Yajima 4th Dan
Dermot Lynch 3rd Dan
Bill Hart 2nd Dan
Marie Fortune 1st Kyu
Christopher Curtis 3rd Kyu
The event was also attended by:
Sensei Eliodorus (Roy)Gerondaes 7th Dan
Sensei Christopher Matin 7th Dan from Kingsbridge Dojo in Devon
Sensei Gareth Waldram 6th Dan from Harpenden Dojo
Sensei Steven Johnson 6th Dan from Harpenden Dojo
And a special mention here for two of Sensei Rickards most recent but ex students
Maryam Sanjoorini 8th KYU and Robbie Capaldi 8th KYU who despite having moved to Hove, travelled up to London to thank Sensei Rickards and wish her well
And to note just how well-regarded Sensei Rickards is one Winchmore Hill student Eliana Chrisiliou Tring made a trip to the Dojo to pop into the dressing room and wish Sensei well for the future and then had to dash of to care for a unwell relative.
With Sensei Konomi Yajima moving discreetly around the Dojo in charge of Photographic recording of the occasion the lesson commenced.
Sensei Christopher Martin lead the class through the basics, Kihon.
Then Sensei Rickards took the class for Sparring, Kumite.
With the assistance of various Senior Dan grades and the students grouped in pairs, Sensei Rickards commenced with Sanbon Zuki Gohon Kumite, 5 step sparring and progressed through to Kaeshi Ippon Kumite, one step sparring with counterattack. The students rotated partners throughout.
With Kaeshi Ippon Kumite having been carried out one on one, Sensei Rickards then divided the class into groups of threes, with one student in the middle, one attacker in front and the second attacker behind. The aim being after defending and countering the first attacker, the student then turns to defend against the second attacker.
The class was then split into two groups for one step sparring line training and later free style sparring Jiyu Ippon Kumite, this was further enhanced by the introduction of Circle training where the defending student stands in the middle of a circle of their peers who are each given a number, Sensei Rickards then calls the numbers at random and the defending student has to remember where their attacker is coming from and defend themselves as taught.
Mokuso was performed at the end of kumite.
This brought the teaching part of the occasion to a close and the floor was taken by
Sensei Roy Gerondaes who said a few words on behalf of SHOTO's North London Karate Club about Sensei Rickards and her contribution to both the North London Club and the
Shotokan Traditional Karate Organisation in general.
Sensei Jil Rickards is a Student of Sensei Mick Randall 10th Dan. Sensei Randall MBE sadly passed away in June 2020 leaving a strong legacy with SHOTO.
As one of Sensei Randall's top students Sensei Rickards dedication to training has earned her the position of the highest ranked female student practicing Shotokan karate within the EKF.
Sensei Gerondaes went on to point out that Sensei Rickards had dedicated herself to many aspects of running the North London Club from seeking and organising various Dojo moves to helping to set up and take part in public demonstrations, organising and running various open days and courses, regularly attending and assisting Sensei Randall with Dan gradings, liaising with various government bodies to negotiate funds to sponsor beginners' course, advertising, organising and leading beginners' courses on a regular basis and teaching free park sessions during lockdown.
This says nothing of the years Sensei Rickards spent as North London Dojo Captain, a position she proudly held ensuring that Sensei Randall had a well organised and respectful Dojo to teach in.
Sensei Gerondaes then Presented Sensei Rickards with a card signed by her fellow senior grades, students, and friends, along with a Trophy which had been commissioned by Sensei Konomi Yajima on behalf of North London Karate Club and the Winchmore Hill Club - the Trophy, a Crystal Block with an Insert of Sensei Rickards sparring with Sensei Randall, will be treasured for many years to come.
Sensei Rickards was then given a warm round of applause with everyone wishing her and her partner Sensei Simon Bourne another great representative for SHOTO over many years, every success for their future together in Cornwall.
Sensei Rickards offered some advice to Sensei Eche Ginikanwa and those that will be assisting him as the new Head Coach at the North London Dojo, she said "When planning your lessons, plan for what the students need to know rather than what you might prefer to do".
Wise words, and Sensei Rickards did confirm that, when invited, she will be delighted to come along to NLKC when in London - she will of course be most welcome.